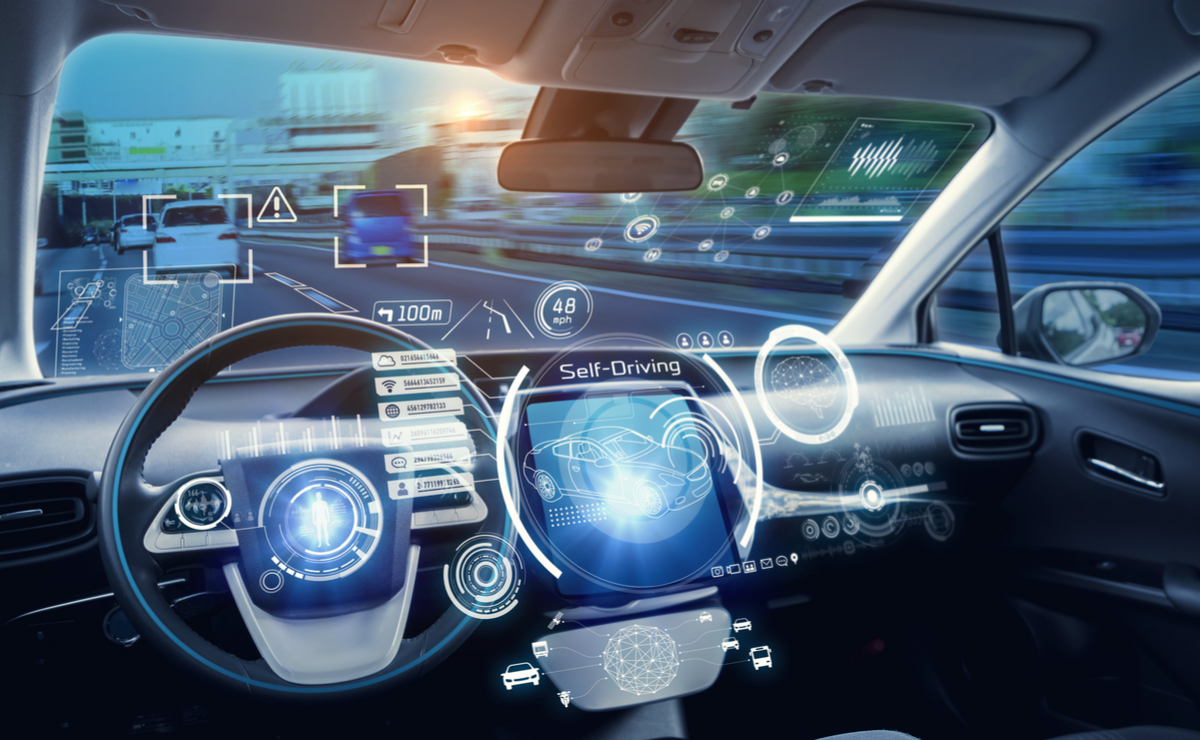 Decades before David Hasselhoff slid onto Australian TV screens as the face of the ANZ Bank, he was famous as the owner of the autonomous talking car called KITT in Knight Rider.
"The Hoff" (aka Michael Knight) and his artificially intelligent, self-driving black Pontiac Firebird Trans Am zoomed around fighting crime during the 80s in a way that was pure science fiction at the time.
Fast forward almost four decades and KITT (Knight Industries Two Thousand), minus the dry sense of humour, could be parked in a driveway near you in the very near future.
Thousands of new jobs, a $95 billion boost to the Australian economy, independence for the elderly and disabled, not to mention a huge reduction in greenhouse gas emissions – autonomous vehicles appear set to usher in a bright future for all Australians.
But with driverless cars expected to make up a significant proportion of Australia's road fleet by 2030, there's a lot to be done in terms of planning and infrastructure before we can all hop into our very own version of Knight Rider's KITT.
The benefits of autonomous cars
Area Safe Products Sales Manager, Craig Light, said the benefits would not only be a vastly reduced national road toll thanks to the removal of human error, but an increased source of independence for people with disabilities and the elderly.
"Less pollution and decreased road freight are added incentives that are driving the push (pun intended) across the business and wider communities to make automated cars the dominant mode of road transport," he said.
"However, there is much more to getting driverless vehicles onto the roads and into our driveways than simply heading to a dealership, handing over some money, then telling the car to take you home.
"A significant amount of infrastructure will be required for these vehicles to be able to operate without causing more chaos than there is already.
"Driverless cars use technologies that provide the car's computer with a 360-degree view of its surroundings, the ability to interpret street safety signs, lights and lane markings, as well as detecting objects," he said.
"But in order for the cars' computers to accurately interpret and react to this data, it will need to be standardised to ensure the technology analyses the information accurately and reacts appropriately."
Driverless cars need driverless car parking
Mr Light said one common misconception that he found when discussing the future of autonomous cars was around the need for car parking.
"People tend to think that car parking won't be required for automated cars," he said. "But the cars just can't drive around the streets aimlessly while they're waiting for owners to finish work or shopping – they'll still have to be housed somewhere.
"Consideration needs to be given to what the carparks of the automated car future will look like. Significant changes will need to be made when planning for the parking needs of driverless vehicles including building them in centralised locations, with different layouts and incorporating the use of technology so that the car parks can "talk" to the vehicles."
Is Australia prepared for an autonomous car future?
While it's generally agreed that about a decade remains before the majority of vehicles on our roads are autonomous, stakeholders, including all levels of government, engineers, urban planners, developers and motorists' associations, are already preparing for the self-driving car future.
The Australia and New Zealand Driverless Vehicle Initiative (ADVI) is the peak industry advisory body that services the wide ecosystem of automated vehicle activities across Australia and New Zealand.
Its vision is to accelerate the safe and successful introduction of driverless vehicles to Australia, supported by more than 120 partners from across the automotive, insurance, transport, motoring, parking, communications, banking, logistics, defence, technology and research sectors, as well as local, state and national governments.
ADVI Executive Director Rita Excell said driverless vehicles had the potential to provide significant road safety, economic, environmental and social benefits, including improved social inclusion.
"This technology will make driving easier and safer, allow people to be more productive and offer greater mobility to a wider range of people than ever before, reduce emissions, and ease congestion," she said.
"The biggest safety benefit from driverless vehicles is the potential to markedly reduce the number of accidents, with general agreement among Australian and international experts that 90 per cent of all accidents could be eliminated through advanced driverless vehicle technology.
"This technology could also reduce the impact of human error in road crashes, which cost Australia $27 billion annually, on top of the cost of human lives.
"Research that the ADVI-commissioned in 2016 found that 46 per cent of Australians agree that driverless vehicles will be safer than traditional vehicles."
How safe are driverless cars?
Ms Excell said that, like any new technology, it was important to test the safety of autonomous cars in local conditions.
"This is why ADVI has been pleased to see a range of deployments across the nation," she said. "Vehicle manufacturers and technology companies are investing millions to get Automated Vehicle technology right.
"Let's not forget that 1.25 million people die in road crashes around the world each year, with between 20 and 50 million left injured or with a disability. Human error plays a role in most of those tragic outcomes.
"A landmark survey commissioned by ADVI has shown that even though most people are yet to experience this technology first-hand, the majority of respondents feel comfortable with a driverless vehicle undertaking most normal driving tasks.
"Where people still have a degree of concern is where a vehicle decides to change lanes or follow too closely to the vehicle in front – probably because those actions reinforce that the human is not in control and challenges the many complex decisions we normally have to make as drivers when behind the wheel.
"That same ADVI survey also found that almost half (43 per cent) of people believe an automated vehicle would be safer than a car driven by an experienced human driver."
Can autonomous vehicles read road signs?
Ms Excell said autonomous vehicle technology was progressing around the world at a rapid rate.
"As we transition to having a greater number of autonomous vehicles on the road network operating at higher levels of automation, it is critical that road infrastructure keeps pace," she said.
"One such example of where road infrastructure innovation is occurring is the development of signs that can communicate directly with autonomous vehicle technology. Similarly, having simple and inexpensive lines on roads can provide immediate support to current vehicle technology.
"While missing road signs and faded or non-existent markings can confuse the vehicle technology, this can be moderated by having a reference baseline map and having a continuous feedback loop from other vehicles to provide verification and validation of gaps of information.
"As the road network continues to develop, embedded sensors that form part of the roadside infrastructure will wirelessly communicate with onboard sensors, radars and lidars of autonomous vehicles."
The community wants driverless cars
Ms Excell said driverless vehicle technology would offer lifestyle benefits beyond being able to read a book, surf the web, watch a film or talk with passengers on a journey.
"Our research has found that 82 per cent of Australians believe one of the greatest benefits from self-driving vehicles will be enhanced mobility for people with a driving impairment or some type of licence restriction, such as a medical condition or vision impairment.
"That's great news for the one in five Australians living with a disability, and it means about 4.3 million people stand to rely far less on carers, family and public transport to get around.
"The research also found that 70 per cent of Australians want a self-driving car able to take over when they feel tired or bored, and just under three quarters (73 per cent) of Australians wanting autonomous vehicle to transport them when they feel physically or mentally unable to drive manually."
How will driverless cars impact community attitudes to transport?
Ms Excell said having a personal car ready at a moment's notice would be a hard habit for many people to break.
"Even when public transport is much cheaper to use, the abundance of parking options adds yet another reason to pass up that bus, train or tram ride," she said. "But the growing popularity of 'on-demand' car sharing is a perfect alternative to owning, garaging and maintaining a car – and increasing competition in the marketplace will see this become a more affordable option over time.
"In fact, the convenience of sharing a car might see car ownership become the exception rather than the rule. The popularity of Uber and Lyft demonstrates that people are already comfortable to make a booking using a phone and get delivered to their place of choice.
"We are already seeing cities such as Phoenix in the US do real-world testing of driverless car sharing, where people book a ride without compromising on the freedom or privacy they had by owning their own car.
"While some people will still buy their own self-driving car when the time comes, there is sure to be those who will be happy sharing a driverless car and using it as they need. "
Traffic congestion could be a thing of the past
Federal Minister for Population, Cities and Urban Infrastructure Alan Tudge told the Australia-New Zealand Cities Symposium in February that congestion was possibly one of the greatest challenges faced by the nation's largest cities.
"Depending on the uptake, automated vehicles have the potential to significantly reduce congestion on our roads within a decade," he said.
"Many companies around the world are rapidly advancing the technology.
"The challenge for governments is the regulatory environment and ensuring that we are prepared to capture the opportunities that automated vehicles will present in the future.
"There are significant issues that we need to be considering now. For example, marking roads with brighter lines or considering whether newly resurfaced roads from now should have nanoparticles placed in the bitumen."
Mr Tudge said the Federal Government was working closely with state and territory governments, the National Transport Commission and Austroads as well as through the Transport and Infrastructure Council to support the safe and early deployment of automated vehicles in Australia.
"This work is supported by our Government's announcement in October 2018 of almost $10 million to advance work to prepare Australia for automated vehicles and other transport innovations, including through establishing the Office of Future Transport Technology within the Infrastructure Department," he said.
"While much of the implementation will be at the state level, it is important that there is national consistency in policy or else we will have new 'rail gauge' problem where an Automated Vehicle car from Victoria may be unable to 'read' the road or be authorised to drive on it in NSW.
"The Office of Future Technologies has been tasked to collaborate across governments to ensure automated vehicles are safe, to consider future infrastructure needs, to make sure cyber security safeguards are in place, and to support Australian businesses in taking advantage of new commercial opportunities."
The automated vehicle future is exciting
Mr Light said driverless vehicles offered the potential to transform communities, not only in terms of transport and infrastructure, but lifestyles.
"It's a new industrial revolution that, if harnessed properly, has the power to do great good, especially in terms of enabling so many more people to reach their potential and participate more fully in the community and enjoy greater independence," he said.