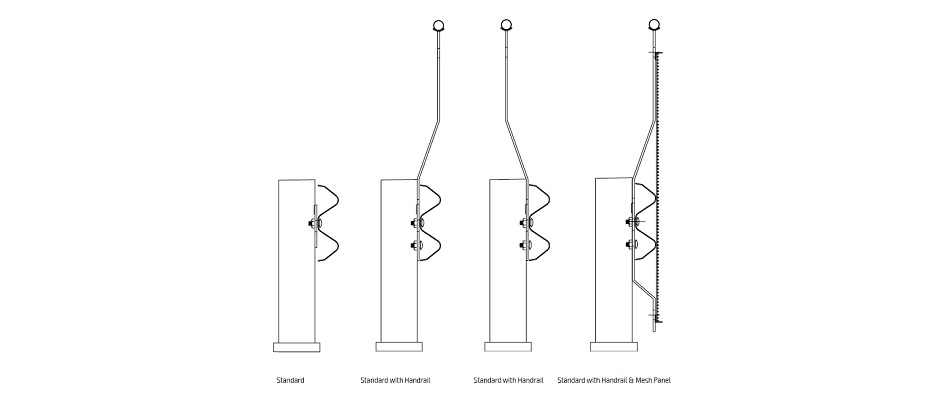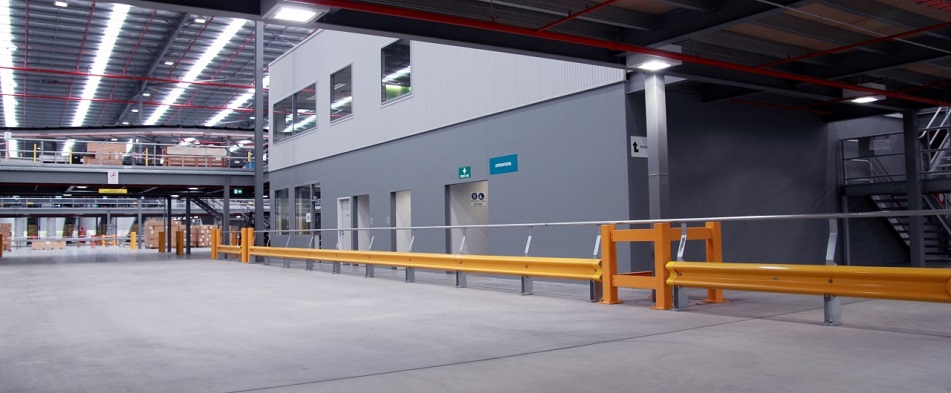 W-Beam Guard Rails are designed for asset protection as well as the protection of pedestrians from vehicles such as forklifts, moving in and around industrial warehouses, commercial complexes and carparks. Area Safe's W-Beam Guard Rail System has been crashed tested in accordance with the requirements of AS/NZS 1170.1 for light traffic areas. In a warehouse/industrial environment, the W-Beam Guard Rail creates guarded areas for pedestrians and vehicles to move around in a safe environment and allocating safe spaces for both activities to take place.
There are a variety of configurations for installing a guard rail, each serving a different protection purpose in a variety of environments where premium safety measures are required. The correct placements of the W-Beam Guard Rail are explained below.
Standard Configuration
The standard configuration of the guard rail is commonly used to protect important assets such as tanks, electrical boxes, other services, and walls in carparks and factories. Along with this, it is also used to ensure pedestrian walkways are not intruded on to maintain a safe pedestrian pathway.
Standard with Handrails Configuration
This configuration is used commonly to separate/segregate pedestrian walkways and vehicle thoroughfare such as forklifts, small trucks and cars. This configuration of the W-Beam Guard Rail provides pedestrians with the highest form of protection from light vehicles in comparison to other handrail/guard rail systems.
Standard with Handrail & Mesh Panel Configuration
The standard W-Beam system with a handrail and anti-climb mesh panel provides two different types of protection. The first being protection from high edges such as multi-deck carparks, loading docks and mezzanines typically seen in industrial warehouses and carparks. The mesh panel provides fall protection, especially for small children and small objects. The second being protection from projectiles/items falling or intruding into pedestrian safe areas when work activities are performed.
It is important to assess the environment that a W-Beam Guard Rail needs to be installed and the level of protection that is required from its presence. The placement of the different configurations are highly suggested for placement in warehouse and industrial facilities, to ensure a high level of protection is provided, creating a safe work environment for all personnel.