Project - NSW Rural Fire Service - Glendenning
---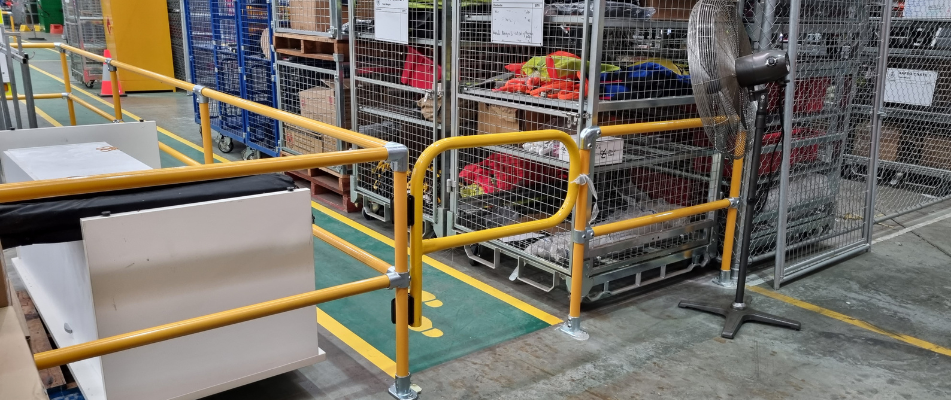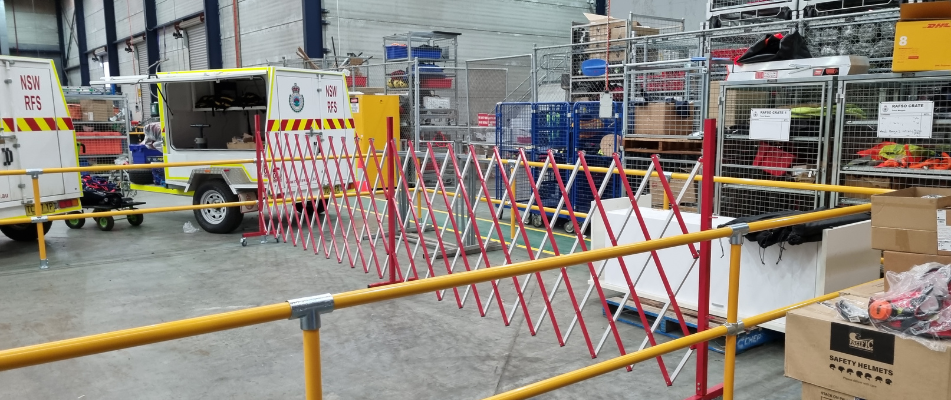 Client NSW Rural Fire Service - Glendenning
Location Glendenning, NSW
Supplier Area Safe Products
Installer Supply
Date May 2023
Products
About Glendenning NSW Rural Fire Service

The NSW Rural Fire Service (NSW RFS) is the world's largest volunteer fire service. Their members provide fire and emergency services to approximately 95 percent of NSW. NSW RFS members attend a range of incidents and activities. The Greater Sydney Area Command is located at their Glendenning depot.
The Requirement

To enhance the safety and organisation of the existing warehouse and fire command centre, by implementing safety barriers. These barriers will ensure the depot remains safe and tidy, promoting efficient operations and providing a designated area for staff to coordinate and manage emergency responses.
The Challenges
Assessment of Risks: Properly assessing the risks present in the environment is crucial. An incorrect assessment can lead to choosing barriers that don't provide adequate protection.
Space Constraints: Warehouses and command centres can have limited space. Selecting barriers that are too large or not adaptable can hinder movement and operations.
Durability and Maintenance: Some barriers may corrode, wear out, or require frequent maintenance. Choosing equipment that is durable and requires minimal maintenance is essential for long-term safety and cost-effectiveness.
Integration with Existing Systems: If there are already some safety measures in place, the new barriers and equipment need to integrate seamlessly without causing disruptions.
Visibility and Accessibility: Barriers should not obstruct visibility in crucial areas, and they should allow for easy access during emergencies.
The Solution
After evaluating the challenges and requirements, NSW RFS selected the Pediestrian Modular Rail, Red/White Industrial Expanding Barrier, Yellow 4m Heavy Duty Manual Industrial Boom Gate & Receiver Post and One Piece Flexible Bollard 750mm High.
The PedestrianModular Rail offers the following features:
Modular Design: Easily configurable no-weld system that can adapt to almost any facility layout, ensuring flexibility in creating walkways and exclusion zones.
Durable Construction: Galvanised rails and posts, with an all-weather hot-dipped finish, guarantee longevity and resistance to corrosion.
Enhanced Visibility: Option for powder-coated safety yellow finish ensures the rails are easily noticeable, reducing accident risks.
Customisable Accessories: A wide range of fittings, including options for intersections, sloping base plates, and pedestrian gates, cater to diverse facility needs.
Easy Installation: Supplied in kit form with clear dimensions and suggested fixings, allowing for a straightforward and secure install.
The Pedestrian Red/White Industrial Expanding Barrier offers the following features:
Expandability: The barrier is designed to expand and contract, allowing for flexibility in the area it can cover. It can be stretched across larger openings or condensed for smaller spaces.
Portability: The expanding barrier is lightweight and portable, which means it can be easily moved and deployed wherever needed. This is particularly useful in environments where hazards or restricted areas change location frequently.
Stability: The barrier has a solid base that helps it remain upright and stable when expanded, reducing the risk of it being knocked over by wind or passing foot traffic.
Visibility: The bright red and white colours are highly visible, which is crucial for safety. This colour combination is widely recognized as a sign of caution, alerting people to the presence of a hazard or restricted area.
The Yellow 4m Heavy Duty Manual Industrial Boom Gate & Receiver Post offers the following features:
Manual Operation: The gas strut support provides easy and reliable access control without the need for power, with the added ease of a gas strut for smooth operation.
Customisable: Accommodates a variety of access widths up to four metres and can match organisational branding or safety colour coding with custom colour options.
Lightweight and Durable: The aluminium construction ensures the boom gate is both easy to handle and robust enough for high-use environments, increasing its longevity and reducing maintenance needs.
Secure Locking Mechanisms: Features a quick-insert bar and padlock lugs for dual security options, preventing unauthorised access effectively.
What the client said
"All components are solid and I'm very happy with them."