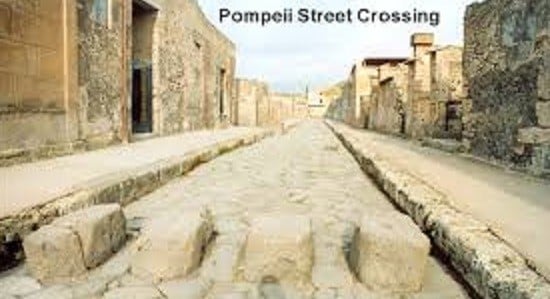 What is the history behind the invention of speed humps?
Speed calming devices are essential on roadways for the safety of people, particularly in high pedestrian areas and shared zones.
As we know, the excavation of the ancient city of Pompeii has revealed a remarkably advanced level of civilisation prior to when it was destroyed by the eruption of Mt Vesuvius in AD 79.Despite the fastest means of transport being horse drawn chariots and carriages, Pompeii actually had speed control devices built out of stone on the cobblestone streets: the ancient Romans understood the importance of traffic calming devices, and the safe movement of people across major streets. At this time, these structures also helped people to avoid walking in all the mess on the road!
It is also reportedby Quora.com that in March 1906, the borough officials of Chatham Borough in New Jersey USA acted on a plan to slow down the fast pace of the new motor carriages that were taking over the roads! They had their first test of 'speed bumps' installed to check the speed of automobiles through the village.
Area Safe Products now supplies a wide range of speed humps to suit car parks, driveways, heavy vehicle areas and public roads in Sydney, Melbourne, Brisbane and regional areas Australia wide.
Call us on 1300 889 821 to discuss your requirements – we are known for our Quality Range & Trusted Support!