Is your business operating inefficiently due to crowding?

Not only can this make the work day more chaotic, it can even be dangerous.
Look after your customers and make the flow of business more manageable through participating in queue control.
Here is what you need to know about crowd control and how it can benefit your business.
#1 - A Huge Return On Investment
You can rely on queuing equipment for all your counters and registers.
However, you can't expect it to work at all times.
On the other hand, if it is properly implemented, the queuing setup will have a huge return on investment.
Here are the best 2 queuing setups that actually work:
● Unified (Single-Line) Queuing – It works perfectly compared to the multiple checkout lines. When used in any retail outlets, it can result in a 400% increase in impulse sales. It also reduces the walkways by at least 96%. There will always be more cash coming into your store.
● In-Line Merchandising – Here, any items for purchase are placed in the checkout lanes.
Both of these strategies can be implemented together for the best results.
For the bookkeeping experts at Metro Bookkeeping, putting these queue control products into place will increase profits. "When you have customers in a store that keeps them there longer and makes the register lines a pleasant experience, the profits will inevitably increase because it becomes easier for customers to spend more money."
#2 - Branding Benefits
With a proper queuing setup, your business is orderly, neat and concerned about customer service.
With the right equipment in place and using it to the greatest potential means that you are sending out the best message about your brand and your overall company values.
Even better, you can brand the queuing equipment with your logo, name or a custom message.
#3 - Stress Relief
As a business person, you must spend a lot of time wondering what to do next for your job.
Well, customers don't want to waste their time figuring out where they need to go to receive the service they need in your business.
You need to make things easier for them. You should be able to predict their next move and they will always thank you for it.
According to the commercial architects at Modern Day Concepts, you should strategically structure a space according to how you want it to work. "With a good queuing system, you can avoid the horror of people skipping the queue and unfair service. This is because if the space is designed to encourage certain behaviours such as orderly queuing."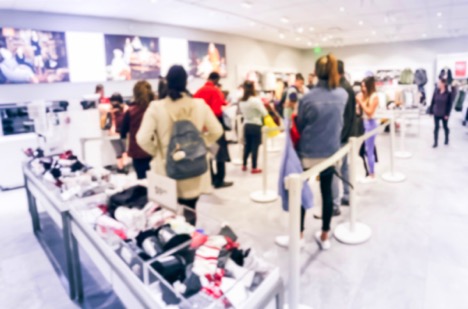 #4 - Consistent, Fair Service, Guaranteed
The golden rule of queuing is the first customer to arrive will be the first to be served.
If you are using the right queuing set up, it's easy enough to ensure that the first customers to arrive will get the service first. You can ensure this using single-line queue.
If you are using multiple checkout lanes, there is always a chance of choosing a slow line or choosing one with a slow customer.
Well, you should not make your customers choose, rather you should give them the best decision.
#5 - Create A Lasting Impression
Ideally, you are supposed to provide the best customer service on the ground and make sure the whole design is enticing.
It should also offer a comfortable shopping experience for all your customers.
However, if the checkout lines don't match your ideal customer experience design, it will outweigh any good impressions you have created up to this point.
Remember, most customers judge their experience on the last checkout moment.
You need quick and easy lines and your cashiers should be friendly and serve fast enough.
As a result, you can count on creating a good overall impression for all your customers without any hassles.
If handled properly, your customers will always come back and refer their friends to your business over the competitors.
#6 - Customer Satisfaction
Retailers who have installed the best queuing options always receive the highest customer service rating.
Actually, those who use a single-line queue have at least a 94% approval rating on their queues.
With higher customer service ratings, you can count on more customers, increased money and overall longevity of your business.
In conclusion, in the final moment of their purchases, customers need to be satisfied about everything and having a good crowd control system ensures that.