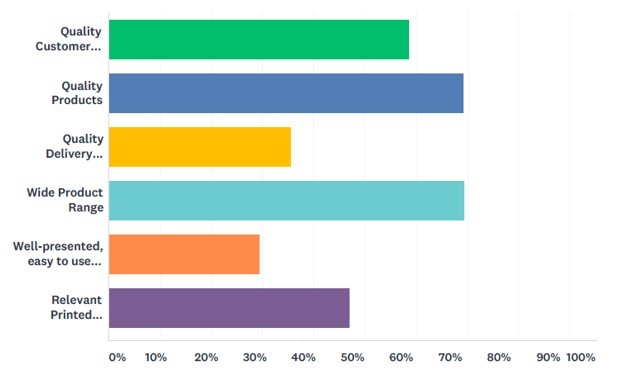 What makes you want to buy from Area Safe?
Area Safe recently conducted an Australia-wide email survey as to why customers buy from us and alternatively, why others don't buy. The percentage take-up on the survey was outstanding - a true indication of loyalty and genuine support for our family owned Australian company.
We trust that every respondent has received their promised free-gift and we pass on our sincere thanks for your participation. We assure you all that all responses are being actioned right now in view of us becoming an even better company to work with!
The key survey points of why people buy and their results are as shown below:
WIDE RANGE OF QUALITY PRODUCTS - 375 responses
QUALITY CUSTOMER SERVICE / SALES SUPPORT - 158 responses
QUALITY DELIVERY SERVICE - 94 responses
Here are some great comments in customers' own words:
"Good response time".
"Ability to talk to supplier regarding products and issues, ensuring clear finalisation of enquiries".
"Area Safe has a good range of suitable products which satisfy statutory and/or safety requirements".
"Had exact product for which I have been searching for".
"They were excellent at custom order signs and assisting me with the process".
"Even if items not in the catalogue, staff do their best to get them for you".
"Quick/ easy".
"Friendly helpful staff".
"Price and product range. Sales people are great"!
"Competitive pricing".
"Extremely helpful staff when contacted directly. Staff available to answer relevant questions".
"Jordan Marchetta has an excellent manner and follow up".
"Over all great to work with".
"Great customer service and responsiveness from Lindsay Stead".
"Ease of purchase".
Well, we would love to hear from you today about your requirements! Ring us on 1300 889 821 or jump onto live chat via our website.