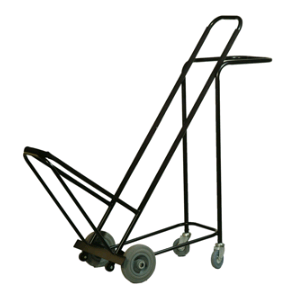 Getting ready for your next event? Frustrated with the time it takes to shift all your loose chairs before and after each function?
The answer is with the new Area Safe Chair Stacker Hand Truck which moves whole stacks of chairs quickly and safely. Stacked chairs have never been so easy to move as with this outrigger style chair trolley. Save your time, save your back and save your effort!
Eliminates WHS issues with moving chairs: Designed to avoid any load bearing by the operator, it simply hoops under the back of the chairs, safely locating them to prevent slippage. Minimum width between chair legs is 320mm. Maximum height of the chair stack is approximately the height of the trolley, or about 8-10 chairs.
Comes with black enamel finish and felt overlay to protect your chairs from scratching. Non-marking rubber wheels and castors protect polished floors. Many other styles of hand trucks and trolleys are also available from Area Safe including cleaning trolleys, platform trolleys, scissor lift trolleys and appliance hand trucks with built in ratchet straps – view online today!
Contact us today on 1300 889 821 to enquire about this new chair stacker hand truck!